PREMISYS - BY MITSUBISHI-ELECTRIC
PremiSys is a DOAS system available in either split Variable Refrigerant Flow (VRF) outdoor unit and an air handler or packaged DX (inverter driven or scroll). The system is designed to handle 100 percent outside air with energy recovery models. It offers an energy-efficiency improvement of up to 20 percent over a traditional dedicated outside air system.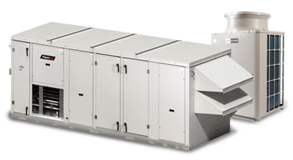 Ready to buy?
Contact us to start your order.